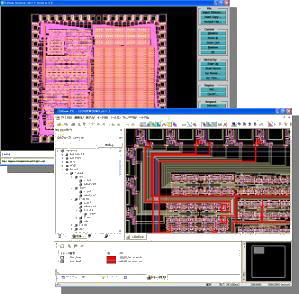 High-Speed Layout Viewer
"SView / SView-PC"
Key Features
High-speed display of large data.
Overlay display of multiple data.
Snapshot of current screen image.
Logical Operator of two GDS data.
Trace and highlight of the equipotential nodes.
DRC (third party product) interface displays and highlights the failure location.
GDS output (output of the logical operation result, output by group of related cells)
---
User Benefits
We offer three types of license for SView and SViewPC: floating license, node-locked license, and USB type. You can use it in variety of situations in and out of the office.
You can easily check the layout and find out the data you need.
You can immediately check the suspicious point of automatically generated/converted GDS data.
---
Download
---
Operating Environment
OS
SView
Solaris2.8 or later (64bit)
Solaris10 (AMD64)
Red Hat Enterprise Linux Version3 (AMD64)
SView-PC
Windows Vista (32bit)
Windows 7 (32bit/64bit)